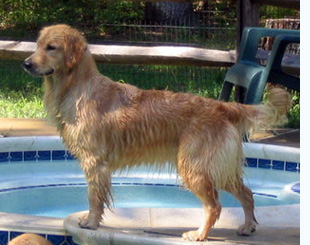 "Olivia"
Ch. Moongate's Oh! Oh! Oh! Olivia
It is with great pride that we introduce O! O! O! Olivia.
Olivia has earned every "O" in her name. She is the regular energizer bunny who never has a bad day. No matter how hot or cold or wet the weather, Olivia wags her tail and grins her silly little grin she doesn't have a care in the world.
Olivia has the title of the clown princess at Moongate Goldens, no matter what is going on, Olivia manages to make us laugh. You never know what she will think of next, whether diving into the pool and stealing a toy right out of Shiloh's mouth, or coming down with a case of the "zoomies" and tearing around the yard at break neck speed, it is Livy's job in life to be sure that no one is bored. When she comes in the house the clown hat comes off and she then becomes my shadow finding a place to nap, always close but never underfoot.
Olivia has all her clearances and we are hoping to breed her in the winter of '08' with puppies due in the spring.
Click here for Olivia's pedigree.