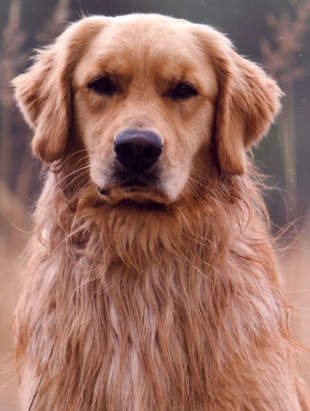 "MacGregor"
Moongate's Me and My Shadow
Moongate's me and My Shadow – MacGregor lives up to his name. He has decided that I am his person; this means that I can be sure wherever I am that Mac is close by.

MacGregor has his own special place at Moongate. While we have show dogs and obedience dogs, MacGregor has rounded us out by being our field dog. Like his grandfather Shiloh and his mom Shelby, he gives 100% in whatever I ask of him. By the age of 3 he already had his first obedience title, a Rally title and the first Moongate Golden to have a Junior Hunter title. MacGregor's only fault is that he has no idea that he is a dog preferring to sleep in bed with mom and dad instead of on the floor with the rest of the crew. Thank heavens he doesn't snore (much).
Click here for MacGregor's pedigree.